My Eee PC 4G (701) - [SOLD]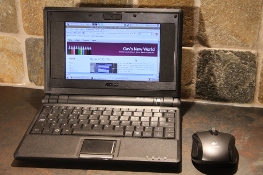 As you may be aware (if you're not, then you're not a true gadget geek), the Eee PC was released in the UK on the 11th of November 2007. I knew a couple of months before it's launch that it was due, so I had it on back order and it arrived on the 13th :-)
This is a cracking wee laptop which is small enough to fit in even the smallest of rucksacks, and even some pockets, if you have them so large!
Specifications, "Out of the box"
Dimensions: 225mm(W) x 160mm(D) x 20mm~ 32mm(H)
Weight: 922g (2.04lbs)
Intel® Celeron M 353 Processor
512MB DDR2 RAM
4GB on board solid state drive
800 x 480 (WVGA) LCD back-lit display
Wireless 802.11b/g
10/100 Ethernet
0.3M pixel web cam
3 x USB 2.0
VGA connector
4 cell 4400mAh battery, (* approx 3.5 hours)
However, after my modifications, my model also has:
2BG DDR2 RAM
Internal 4 port USB 2.0 hub
2 x internal USB 2.0 connectors
16GB Corsair Flash Voyager (in internal USB 2.0 connector)
Logitech VX Nano receiver (in internal USB 2.0 connector)
Touchscreen
Obviously, since it runs my favorite operating system, Linux it is very easy to make it do exactly what you want it to do ... instead of be forced to do it Bill's way!
I was surfing the eeeuser.com forums and wiki before my Eee even arrived and I highly recommend this site for finding out information concerning the laptop. Chances are that someone has already done or answered what you want to do or know.
There are some easy modifications that can be done, both to the default Xandros installation and to any other flavour of Linux that you intend to install. I currently run a slightly modified Ubuntu Intrepid Ibex.
Since I'm not afraid to tackle delicate jobs with a soldering iron, I've also done some major hardware modifications. Now we're not just talking removing the bottom panel and upgrading the RAM: I'm talking about fitting an extra internal USB sockets, an internal USB 2.0 HUB and even a touchscreen.
I think I'm done modifying me Eee PC 4G for the time being - really wanting to buy a 901 ;-)
---










Galleries
(* updated in last 14 days)
My Organisations