Welcome to Gav's World
Whether you've stumbled onto GavsWorld through some obscure search that you performed or you're a regular reader, I'm sure you'll find something here to entertain or inform you.
Where did GavsWorld come from? Well here is the detailed history of GavsWorld.
Since I'm a bit of a gadget geek, I've decided to share any experiences / tips / tricks with gadgets and computers - starting with my Asus Eee PC 701 (which was sold to help fund my Asus Eee PC 901 which in turn was sold to help fund my Motorola Xoom) with more items to follow, I'm sure!
Along with that, there's always my real ale ratings for you to be having a look through. You may agree with some of them, you may not - I don't mind ... it's just a bit of fun at the end of the day :-) Of course, if you like drinking, then you may like to play some drinking games. Also, what goes better with beer than a curry (link to my work's curry club external mirror).
Of course, my latest hobby is SCUBA Diving and you can find out about all of my antics under the water!
A good friend, Mark Naples made a self financed album in 2003 called The Insignificant Man which I did some of the photographic work for. The album is available to buy from here and Mark will even sign every copy. There are samples of a few tracks to give you a taster.
I've had requests from various people about the software that drives the website, so I've decided to make the software available for download, free of charge (for non-commercial use). It may take a wee while to figure out how it all hangs together, so I have fully documented the whole thing in the website template, so please read through before asking questions.
Since I have your attention (I know that since you're still reading this), how about checking out my charity pages where you can still sponsor my dodgy moustache(s)!
Anyway, have a browse and feel free to contact me.
Latest News
2020-01-10 : PowerWatch 2 (Luxe)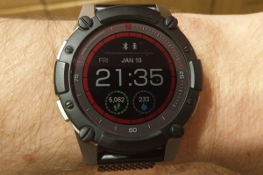 Woo hoo! Exactly a year and a day after backing the Matrix Power Watch 2 on Indiegogo it finally arrived. Initial impressions are that it's far from being a smart watch like my Pebble Time Steel is, but hopefully with several itterations of phone and watch software updates it'll get somewhere close.
Of course, the main reasons for backing this are the use of thermoelectric power to charge the watch (plus solar) and its built in GPS and heart rate monitor.
Impressions from the first few hours of use:
Paired to phone and upgraded the embedded software with no issues, although had to re-pair afterwards.
The up and down buttons will take a bit of getting used to as they're on the other side of the watch from my Pebble Time Steel!
Step counter (as others have noted) is a bit pish to say the least.
I definitely prefer the way that the Pebble does notifications - even the 10 seconds or so of displaying on screen as soon as they arrive.
When this watch can give me weather / sunrise / sunset information (amongst other things), it will be getting on a par with Pebble... apps that I currently have on my Pebble Time Steel (for example, just to give an idea of what a smart watch should be capable of):

Several watchfaces, but I mainly use LCARS
Weather
Music control
Send Text
Alarms
Stopwatch & Countdown timer Timer+

Yes, I'm comparing it to Pebble: both were/are start-ups. Both have multiple crowd-funded products - both watches that I have are 2nd time around crowd-funded products. However, the Pebble OS / phone app / infrastructure / features were far more advanced than the PW2 appears to be - possibly because they had an SDK and app / watchface store at the first generation.
Lastly... now I may not have the biggest of wrists, but this was the first time I've ever had to remove all links and put the strap as far into the clasp as it goes - what sort of wrist is this strap designed for?!?!
---
I host my pages on my broadband Internet service provider and highly recommend them.

(and not just because I get 25p off my monthly subscription for every person that I recommend)
---










Galleries
(* updated in last 14 days)
My Organisations