Welcome to Gav's World
Whether you've stumbled onto GavsWorld through some obscure search that you performed or you're a regular reader, I'm sure you'll find something here to entertain or inform you.
Where did GavsWorld come from? Well here is the detailed history of GavsWorld.
Since I'm a bit of a gadget geek, I've decided to share any experiences / tips / tricks with gadgets and computers - starting with my Asus Eee PC 701 (which was sold to help fund my Asus Eee PC 901 which in turn was sold to help fund my Motorola Xoom) with more items to follow, I'm sure!
Along with that, there's always my real ale ratings for you to be having a look through. You may agree with some of them, you may not - I don't mind ... it's just a bit of fun at the end of the day :-) Of course, if you like drinking, then you may like to play some drinking games. Also, what goes better with beer than a curry (link to my work's curry club external mirror).
Of course, my latest hobby is SCUBA Diving and you can find out about all of my antics under the water!
A good friend, Mark Naples made a self financed album in 2003 called The Insignificant Man which I did some of the photographic work for. The album is available to buy from here and Mark will even sign every copy. There are samples of a few tracks to give you a taster.
I've had requests from various people about the software that drives the website, so I've decided to make the software available for download, free of charge (for non-commercial use). It may take a wee while to figure out how it all hangs together, so I have fully documented the whole thing in the website template, so please read through before asking questions.
Since I have your attention (I know that since you're still reading this), how about checking out my charity pages where you can still sponsor my dodgy moustache(s)!
Anyway, have a browse and feel free to contact me.
Latest News
2020-09-19 : New SOHO Router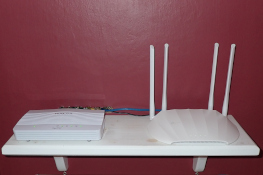 Nothing too exciting - yet another network device, hopefully to improve Internet connectivity reliability and throughput.
A DrayTek Vigor 2762 (on the left) has replaced my Netgear D7000 Nighthawk... not that the D7000 was a bad bit of kit, but every few months it needs a power cycle as it locks up, and I've no idea what the firewall throughput is like.
The D7000 will go on ebay soon I think - as its still worth a bob or two!
It has VLAN capability, so if I reconfigure my gigabit network wiring slightly, then I should be able to re-introduce guest Wi-Fi access for Internet only (without them having access to my whole network).
---
Looking for a new Internet Service Provider? I'm with PlusNet and I'd highly recommend them - if you follow that link, I'll even get a discount off my monthly bill! :-)
---










Galleries
(* updated in last 14 days)
My Organisations