SCUBA Diving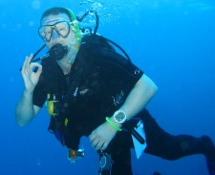 As of April 2009, I've been involved in SCUBA diving which is something I'd always thought about doing, since a life long ambition was to dive on the Great Barrier Reef in Australia. It became a reality when my (then, but now ex) wife bought me diving lessons for my birthday at the end of 2008, knowing that our honeymoon would allow that to happen.
I learned to dive with Deep Blue SCUBA, based in Edinburgh and got my PADI Open Water Diver certification on the 12th of April 2009 in a very cold (6°C) Loch Long.
You can probably guess that the photo above wasn't taken in Scottish waters, but in Australia
( thanks to my buddy Steve Fernee for taking it ).
It was my first real dive in Skelly's Hole at St. Abbs the following week where I was taken-a-back by the abundance of wildlife under the surface of the water (I really didn't expect to see that much in Scottish waters) that I thought to myself, "Oh yeah ... this is for me!"
Since then, I've gained more PADI Certifications and have logged a few more dives.
I also dived with Plug Divers who were based out of North Berwick and had a close affiliation with Dive Safari which was where I purchased a lot of my dive equipment.
Keep checking back here as I intend to keep my on-line dive logs up to date and also get some photos that I've taken on-line too.
---










Galleries
(* updated in last 14 days)
My Organisations