Raspberry Pi Home Media Centre [gav-pi3]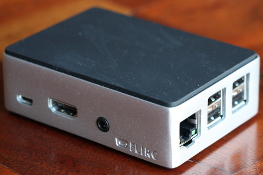 Since I had so may Rasberry Pis around, I upgraded my Mum's Media Pi from my one of the original v1.0 B models to a 2B (all of the 3s had more useful uses and the 2B was spare).
The easiest way to get this up and running is with LibreELEC.
Kodi itself allows my Mum to watch any videos that are on the network, show photos, and even get the likes of YouTube and Ted Talks on her telly!
Kodi has exclusive use of the HDMI for video and audio.
It was extremely simple to set up...
Plug an SDHC card into desktop PC (or laptop).
Plug the SDHC card into the Raspberry Pi and power up, letting it re-size the SD card and then reboot.
Install as many add-ons as you like to Kodi. The SuperReop has literally thousands of them!
Sit back and play / watch / listen!
Specifications
Helpful resources:
---










Galleries
(* updated in last 14 days)
My Organisations