Desktop Pi [gav-pi5] & [gav-pi8]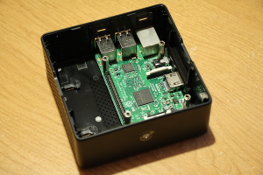 It was time for another computer shuffle in the house, with Helen complaining about the speed of her laptop - granted, it dates from just after the turn of the centuary with its single core, single thread Pentium 4 and a whopping 1GiB of RAM! So, when the kids' Acer Aspire R3700 was moved up to her den, that left the kids without a computer in the lounge... time for another Raspberry Pi!
I just happened to have a Pi Desktop made by Farnell (Element14) sitting around - it just lacked a Pi. So this Pi put me into double figures! It's a cracking wee box which includes a hat that provides: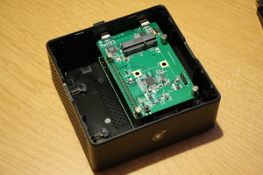 Intelligent power switch
mSATA SSD socket for up to 1TB of on-board storage (bootable)
Battery backed Real Time Clock (RTC)
It's configured with Raspbian, and is fully integrated into the home network, with all user accounts accessible and NFS mounted from the server.
They boys have one of these each in their rooms on one half of a KVM switch (the other half being Kids PC 1 or Kids PC 2... depending on the boy).
Specifications
---










Galleries
(* updated in last 14 days)
My Organisations