Dive Photos
Since SCUBA diving gives me a chance to combine a couple of my expensive hobbies, I bought an underwater housing for my (then) wife, Helen's Canon Powershot A720IS. Why not my own camera? Well, my Canon Ixus 50 only has one housing available for it and it's only good for 3 metres. Also, I'd like to get really good at it before I splash out a couple of grand on a case for my digital SLR! Anyway, this housing is good for 40 metres :-)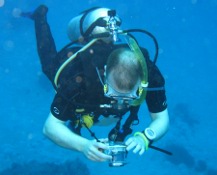 I'll tell you this for free though: it's a lot harder than it looks to take good underwater photos! There's the constant movement of yourself and the subject (waves, current, buoyancy), added with the bulk of the housing and (when doing this in the UK) the 5mm thick neoprene gloves to contend with too! Then of course there's white balance if your camera doesn't shoot in RAW - remember that different colours disappear at different depths.
( thanks to my buddy Steve Fernee for taking this )
Here are some photos that I've taken under water:
More coming soon hopefully ...
---










Galleries
(* updated in last 14 days)
My Organisations