My Desktop PC [picard]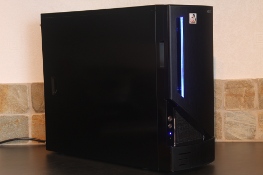 In September 2007, this was my first shot (believe it or not) at building a PC from component parts. Most parts came from Overclockers and BT Shop (previously Dabs) who are both very fast at delivering.
As I've said before, all of my computers are named after Star Trek characters, so may I present ... "picard" ... the 'next generation' of my desktop PC - the first one was "kirk" obviously!
Now I know that "picard" isn't quite bleeding edge technology, however ... it's fast enough for the stuff I do like surfing the web / writing websites / checking my e-mail / manipulating photos and the likes. That said though, it's not a slow machine either (especially after its latest upgrade)... currently with a 64 bit, 8 "core" (well, 4 cores and 8 threads) Piledriver SMP processor, loads of DDR3 and a solid state root file system - sorry, did I make you think that this was an underspecified machine? I thought you knew me better by now! ;-)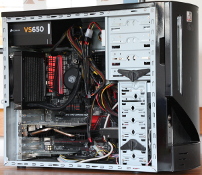 I currently have "picard" running the 64 bit version of Xubuntu 22.04 LTS (Jammy Jellyfish). It boots up very quickly and things just work! Note that unlike other 64 bit "operating systems" ... all of the applications are also 64 bit! Well, apart from the likes of Steam, but there are 32-bit libraries to fully support it!
I used to run with vanilla Ubuntu but I just got sick of the Unity interface - just too damn slow and resource hungry on older hardware. Plus I like to be able to find the applications that I want in a menu, not with big buttons!
That said however, since I've owned a tablet, I can see where they are heading with their unified interface - I may even try installing it on my Nexus 7 at some point!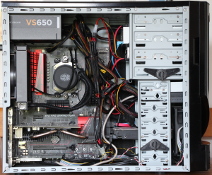 "What does this mean?" I hear you ask. Well unlike you mugs that buy PCs pre-installed with Windows on them (you pay for the privilege you know), my entire operating system and all applications are completely free! In a year's time my computer will boot up in exactly the same time that it boots up just now - or in fact ... it may even boot up a bit quicker!
In case you're wondering why I'm ranting ... I'm sick to the back teeth of re-installing Windows for folk. Main reason for re-installs is the [lack of] speed that their relatively new computer runs at after a year or so of use and all of the junk that's managed to get onto them! ... and ... breath ...
Anyway, the nitty gritty that I know you're desperate to know (and the upgrade history that you didn't even know you wanted to know):
Current Specifications:
---










Galleries
(* updated in last 14 days)
My Organisations