2021-07-03 : New Mountain Bike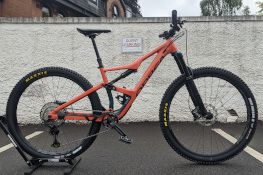 After 3 years of fun on my Saracen Mantra Pro hard-tail, I decided to go to the next level in mountain biking and purchase an Orbea Occam H20 full-suspension, 29'r mountain bike.
This bike, with its bigger wheels, rolls over rocks easier; and with the rear shock, is less tiring on the downhills (saves my knees doing all of the work). However, it's slightly harder to get up them in the first place: since it's a bit heavier, got larger wheels and slightly higher gearing than my hard-tail.
Hopefully it'll serve me well for the years to come on the technical trails... and I'll save the Mantra Pro for the easier trails with the family!
---










Galleries
(* updated in last 14 days)
My Organisations