2021-07-03 : New Mountain Bike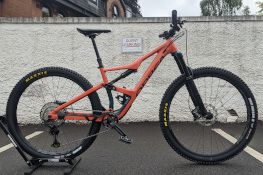 After 3 years of fun on my Saracen Mantra Pro hard-tail, I decided to go to the next level in mountain biking and purchase an Orbea Occam H20 full-suspension, 29-incher mountain bike.
This bike, with its bigger wheels rolls over rocks easier and is less tiring on the downhills - even though it's slightly harder to get up them in the first place: since it's a bit heavier, got larger wheels and slightly higher gearing than my hard-tail.
Hopefully it'll serve me well for the years to come on the technical trails... and I'll save the Mantra Pro for the easier trails with the family!
---










Galleries
(* updated in last 14 days)
My Organisations