My Real Ale Ratings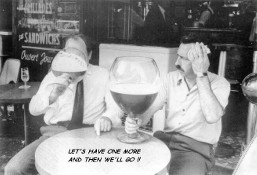 Over the years, I've developed a taste for real ale - I'm talking about the beer that has to finish its fermentation in the cask just before it gets served, not the fizzy pi$$ that's full of chemicals and mixed gas!
I'm a member of CAMRA and have been known to attend the odd beer festival, every now and then. Even though I don't have a beard and a very large belly, I still like to rate them and have produced my tasting notes on all the beers that I've had or at least can remember having ;-)
To reflect my true feelings of the particular pint, comments are those written at the time. They're in alphabetical order not sampled order. However, the educated will probably be able to [from the comments] reconstruct my evenings drinking! Watch this space for more delightful insights!
As any beer festival regular knows, the taste of previous pints can sometimes taint the taste of the next. To this end, I've just invented a new location "Not at a beer festival" which basically means that I've had the beer somewhere other than a beer festival and this rating and comment are more likely to reflect the real taste of the beer!
I've rated the following beers from 0 to ***
It looks as if Gav has 509 beer opinions in this selection (out of 509)!
Locations:
Beer has been drunk on occasion other than a beer festival, which may be more accurate rating!
Feb 2001 : Nether Abbey Hotel, North Berwick - 12th Annual Beer Festival
Jun 2001 : The Caledonian Brewery, Edinburgh - 10th Annual Beer Festival
Feb 2002 : Nether Abbey Hotel, North Berwick - 13th Annual Beer Festival
Jun 2002 : The Caledonian Brewery, Edinburgh - 11th Annual Beer Festival
Feb 2003 : Nether Abbey Hotel, North Berwick - 14th Annual Beer Festival
May 2003 : The Fisherman's Tavern Hotel, Dundee - Ron Bonar Beer Festival
Jun 2003 : The Caledonian Brewery, Edinburgh - 12th Annual Beer Festival
Jun 2003 : The Assembly Rooms, Edinburgh - CAMRA 1st Scottish Traditional Beer Festival
Jan 2004 : Nether Abbey Hotel, North Berwick - 15th Annual Beer Festival
May 2004 : McCowans Brewhouse, Edinburgh - 3rd Annual Beer Festival
Jun 2004 : The Assembly Rooms, Edinburgh - CAMRA 2nd Scottish Traditional Beer Festival
Jun 2005 : The Assembly Rooms, Edinburgh - CAMRA 3rd Scottish Traditional Beer Festival
Oct 2005 : Gullane Village Hall, Gullane - Inaugural East Lothian Cask Ale Festival
Mar 2006 : Nether Abbey (in Masonic Lodge), North Berwick - 16th Annual Beer Festival
Jun 2006 : The Assembly Rooms, Edinburgh - CAMRA 4th Scottish Traditional Beer Festival
May 2007 : The Haugh Field, East Linton - East Linton's 1st Beer and Music Festival
Jun 2007 : The Assembly Rooms, Edinburgh - CAMRA 5th Scottish Traditional Beer Festival
Aug 2007 : Earls Court, London - CAMRA 30th Great British Beer Festival
Nov 2007 : The Volunteer Arms, Musselburgh
May 2008 : Alloa Mayfest, Town Hall, Alloa - 22nd Alloa Mayfest
Jun 2008 : Tappit Hen, Dunblane
Jun 2008 : The Assembly Rooms, Edinburgh - CAMRA 6th Scottish Traditional Beer Festival
Nov 2008 : The Volunteer Arms, Musselburgh
Mar 2010 : Dobbie Hall, Larbert - CAMRA 2nd Larbert Springfest
May 2010 : Tappit Hen, Dunblane
Jun 2010 : The Assembly Rooms, Edinburgh - CAMRA 8th Scottish Traditional Beer Festival
Oct 2010 : Alloa Octoberfest, Town Hall, Alloa - 19th Alloa Octoberfest
Jun 2011 : Adam House, Edinburgh - CAMRA 9th Scottish Traditional Beer Festival
Aug 2011 : Albert Halls, Stirling - Stirling Real Ale Festival
Jun 2011 : Corn Exchange, Edinburgh - CAMRA 10th Scottish Traditional Beer Festival
Oct 2012 : Tappit Hen, Dunblane
---










Galleries
(* updated in last 14 days)
My Organisations