Inspiron 14 5485 Laptop [worf]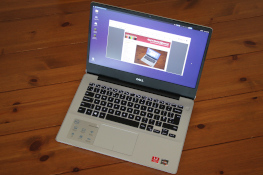 During the bizarre year of 2020 I bought myself a full-sized (but smallish) laptop (not as small as my previous netbooks though: Eee PC 4G (701) and Eee PC 901 from several years previous) as there are several times that a tablet or smartphone just won't cut it.
I opted for an AMD processor to avoid All the major Intel vulnerabilities. In a cheap laptop format, that now comes as an APU (a combined CPU and GPU).
I currently have "worf" running the 64 bit version of Xubuntu 20.04 LTS (Focal Fossa), although it does dual boot with Windows 10 (only because it came with it, so I have the license anyway).
Interestingly, when running Linux, the fan barely spins up, and the CPU cores run very slowly (about 1.2GHz) when idling, but running Windows has the fan spinning almost constantly!
I've not done much to the laptop (modification-wise) yet, apart from re-partitioning the NVMe to allow a dual boot of Linux (default) and Windows 10 (also removing BitLocker so that I didn't have to re-enter the huge decryption key any time Grub updated).
However, I am running the latest kernel (5.8.0) as version 5.4.0-42 didn't like the sound "card" in it. Simpe to upgrade using: ubuntu-mainline-kernel.sh script. And, well... this is quite a new processor, so just as well to have it fully supported!
Anyway, here are worf's specifications:
Specifications:
---










Galleries
(* updated in last 14 days)
My Organisations