Wee Red Masq [gav-pi7]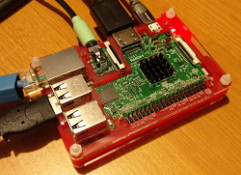 Disaster! The (almost) brand new motherboard in the server was intermittent - in its first two months, it locked up several times, so in order to get a replacement under RMA, I had to send it back first - so I'd have no server for many days!
That meant that it was time to order yet another Raspberry Pi for the house to take over a few services (mainly dnsmasq though).
It is currently (may even be a convenient permanent arrangement) performing the following:
Specifications
---










Galleries
(* updated in last 14 days)
My Organisations