Picade [gav-pi10]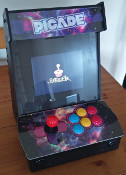 I'd actually been following Picade since its Kickstarter launch (although I didn't back it - I was very tempted though!). Anyway, I eventually ended up buying one, and it's pretty damn cool!
It's basically a mini arcade cabinet kit (which takes a couple of hours to assemble) in the style of a 70's (onwards) arcade machine albeit a tad smaller so that it sit's nicely on a desktop. It can accomodate up to a 12 inch LCD screen (I've gone with the kit's default 8 inch), and computer-wise, has holes pre-drilled for a Raspberry Pi / Beagle Board and a Mini-ITX. I've obviously opted for a Raspberry Pi 3 - meant me having to buy Pi number 11 in the house though!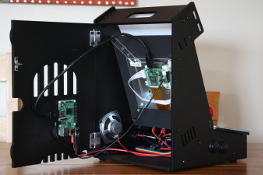 The control board with joystick and 6 buttons (which all connect to its own control board, and then to the computer) is good for one-player games, but if you (or the kids) want more players, then Retropie can accomodate USB / Bluetooth controllers too.
I've made a couple of little tweaks to the cabinet: brought two USB ports to the front panel for controllers (more convenient than opening the back door and plugging into the Pi there), and a key-switch to prevent the kids' unauthorised use!
Specifications
---










Galleries
(* updated in last 14 days)
My Organisations